Apple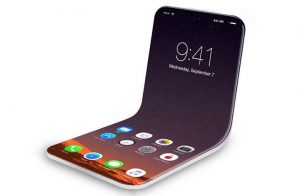 Apple granted patent for "flexible iPhone" with foldable display
In a move reminiscent of the Motorola Razor glory days, Apple has been granted a patent for a flexible iPhone with a foldable display. Issued by the US Patent and Trademark Office, the document describes a phone that can be "opened and closed like a book".
As well as the folding screen, the patent also highlights how screens using an OLED display could bend to face each other or fit back-to-back. While Apple is renowned for filing patents that never see the light of day, it often provides a small glimpse into the company's future plans.
Following complaints of a fault that meant the iPhone 6 and 6S bent when in peoples' pockets – an event that became known as "Bendgate" – Apple could potentially be looking for a way to improve the durability of its hardware.